For movies in which insects save the day, it doesn't come more dear to my heart than the animated film Nausicaä of the Valley of the Wind by Hayao Miyazaki, based on his epic concurrent post-apocalyptic manga series.
In 1986, Miyazaki's film was heavily edited, carelessly redubbed, and its violence and environmental messages dulled and confused for American audiences. The resulting mess called "Warriors of the Wind" was the first Japanese anime film I had ever seen.  And all the brutal alterations by New World Video couldn't change the core of the film.  Instead of a classic villain, fear and mistrust are the real evils.  The huge and ill-tempered insects, rather than being a nuisance to eradicate, are wise and peaceful entities.
I loved this film, and watched it endlessly as a young teen when it aired repeatedly on HBO. It wasn't until I entered college that I saw the uncut film, carefully subtitled by anime fans in the US. In it, the complexity of the Miyazaki's environmental message rings clear, as does his faith in humanity and kindness.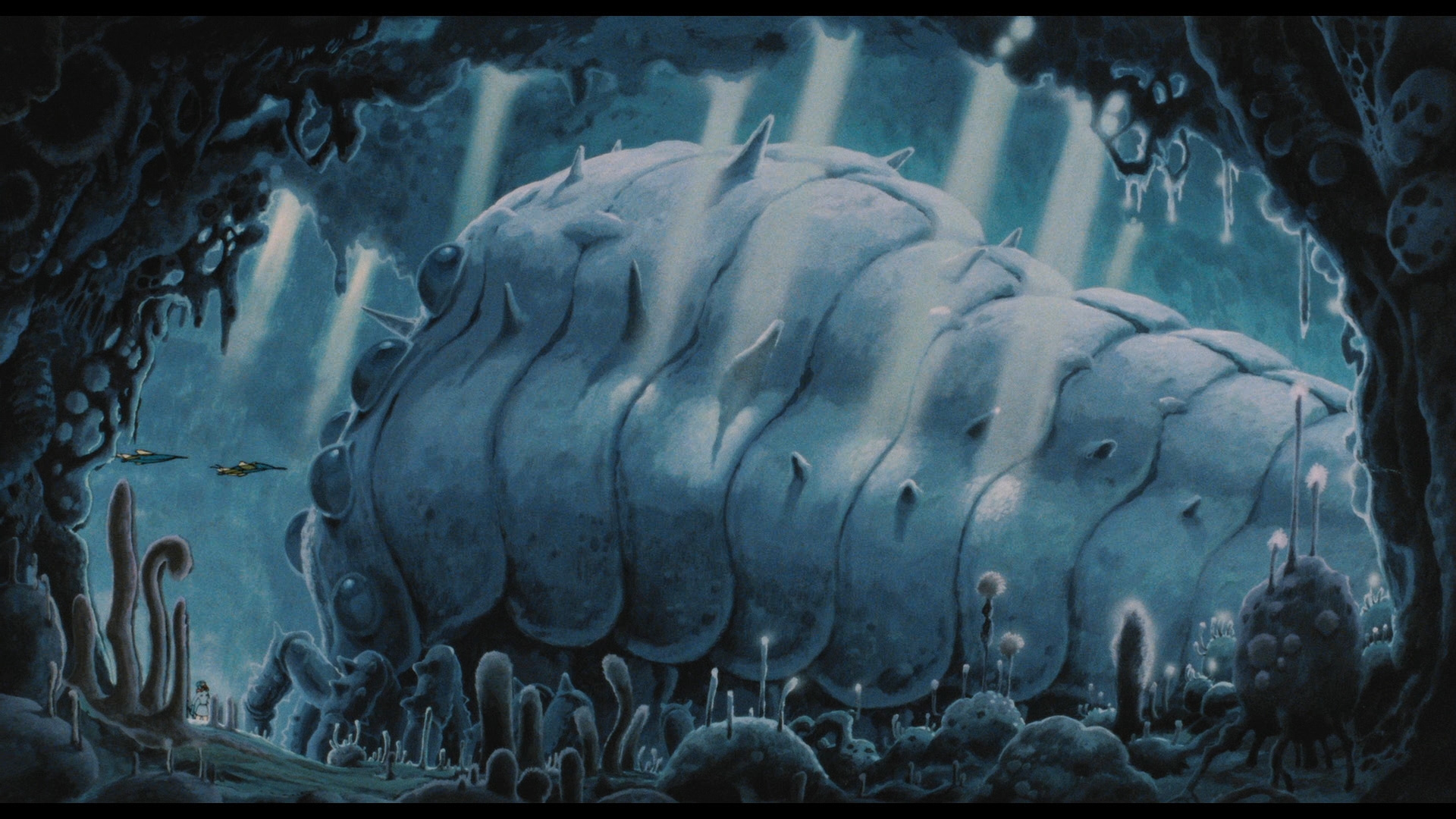 In Nausicaä's withered world, giant toxic fungus forests are inhabited by Ohmu, huge, enigmatic and powerful arthropods, who are quick to anger, abut also intelligent and caring. We are introduced to them through the eyes of young Princess Nausicaä, who feels nothing but admiration and love for the Ohmu. We quickly find that her respect for live extends to all people and things, even the hordes of insects that live within the deadly and alien jungle that lies next to her kingdom.
One of the subplots excised in the early release was the fact that not only is Nausicaä in love with the forest, she is scientifically interested in it as well, and conducted several experiments to determine the toxic jungle's origin and function. Through her research, she comes to a painful discovery.  The lethal jungle is in fact a giant filtration device, bioremediating the contaminated remnants of humanity's world into harmless sand of the course of Millenia.  Humanity's pride and anger is the ultimate cause of its own ills. The forest, and its insects, are the real stewards of the world.
The film is essentially a mere quarter of the events that take place in Miyazaki's manga, and I cannot recommend the entire series highly enough. The world, its insects, and all the characters are a joy to explore. It has been collected into volumes that are easily accessible for the American audience. The entire series (translated into English) is also found online in its entirety here.
Decades later, Disney aquired the rights to this and many other Miyazaki films, with the caveat that they could not edit a frame of film. Nausicaä of the Valley of the Wind can now be easily watched in both Japanese and English in the States in its original glory. It's on my shelf, and I still love watching it.